WHAT IS VIRTUAL EARTH JAM?
Starting in 2004, the Nurtur Aveda Institutes have put on an annual fashion benefit as a vehicle for our students to show off their talents and passion in a themed event that raised money for local charities. In this time of distance learning and social distancing, we've re-tooled Earth Jam into a virtual event to continue to offer a unique opportunity for our students.
Photos by Keith Bryce
WHAT IS THE THEME?
For the 2021 Virtual Earth Jam, our students will be interpreting the traditional Ayurvedic elements of Earth, Wind, Fire, Water and Infinity.
INFINITY
Often called Ether, Infinity conjures space or a vast openness. Infinity means having a cavity with freedom to move. The qualities of infinity element are clear, light, subtle, and immeasurable. Infinity is related with various actions like expansion, vibration, non-resistance.
WIND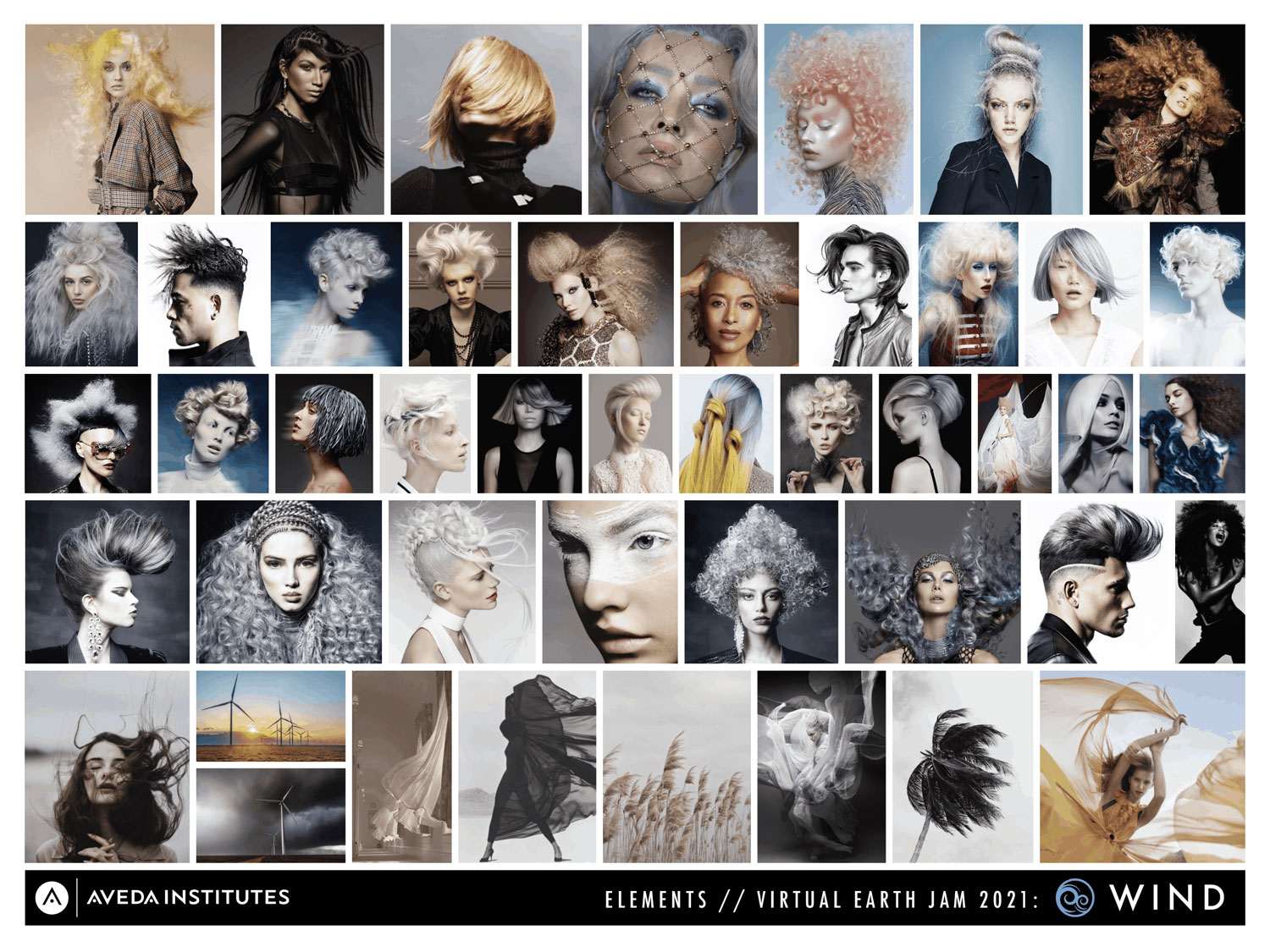 Wind is the great element that shows a sense of movement. Vayu or wind initiates & directs motion or movement. Air element keeps the body in constant motion. Wind element is mobile, dry, light, cold and subtle in nature. Its main action is to do any kind of movement.
FIRE
All various forms of transformation including digestion of food are carried out by fire element. Fire element is hot, sharp, light, dry and subtle. Various functions carried out by this element are penetration, digestion of food, and transformation of thoughts, intelligence and perception of light.
WATER
Whenever we think of water qualities like liquidity or fluidity comes to our mind. Water shows important quality of binding – e.g. if we see dry soil, we cannot make a ball out of it. But if we add water to the soil, then we can easily make mud balls. This binding nature helps in forming different structures in the body as it binds the 2 cells together. Hence this element is a constructive force. The water element exhibits qualities like cool, liquid, dull soft, and sliminess. Its main actions are cohesiveness and adhesiveness.
EARTH
Earth is solid, dense, and very hard. It is related to all solid and hard structures that show shape – e.g. bones, muscles, teeth and nails. The Earth element is responsible for giving structure, shape and strength to the body. Qualities of earth element are heavy, dull, dense hard and gross.
HOW DO I PARTICIPATE?
Virtual Earth Jam will consist of three phases in which students will compete for the opportunity for a professional photoshoot of their look for their portfolio and to represent their Institute in the live virtual event on June 15, 2021.
PHASE 1
WHO PARTICIPATES?

Each student is required to participate individually


WHAT DO WE DO?

Choose your element: Earth, Fire, Water, Wind, or Infinity
Create a vision board of hair, makeup and fashion inspired by the element that you choose
Vision Board can be digital file, poster board, google document etc.
Must include: Written statement on why you chose the element and how it inspired your concept


WHO ADVANCES?

Each Institute will choose the top 20 students to advance to next phase
Submissions due April 19th and the top 20 for each Institute will be announced on April 20th
PHASE 2
WHO PARTICIPATES?

The top 20 students chosen from each campus will form teams of 2-4 students to create a look
Teams can be chosen from any eligible student, not just the top 20
Students can only be in one group


WHAT DO WE DO?

Your group will create and submit your look
Recruit a model for your look
Complete all makeup, hair and clothing for your look

All materials used for clothing and accessories must be "upcycled" or "trashion"

Submission must include:

Photos of your look (front, back, side, full body)
Why you chose your look (hair/makeup)
What materials you chose to use for clothing

Submission to be sent to leadership on each campus:
Los Angeles – Julia LoVetere, ljulia@avedafi.edu
Columbus – Jesse Sullivan, sjesse@avedafi.edu
Indianapolis – Stephanie Huntsman, shuntsman@avedafi.edu
Chapel Hill – Jake Ivins, ijake@avedafi.edu
Cincinnati – Taylor Fultz, tfultz@avedafi.edu


WHO ADVANCES?:

The top 5 groups from each Institute will advance to Phase 3 where they will receive a professional photoshoot
Submissions will be due on May 7th and the Top 5 Teams from each Institute will be announced on May 10th
PHASE 3
WHO PARTICIPATES?

The top 5 groups chosen from each Institute in Phase 2


WHAT DO WE DO?

Each group receive a professional photoshoot of their look for their portfolio
Groups will receive up to $25 Budget to enhance look


WHEN ARE THE PHOTO SHOOTS?

Photoshoots will be scheduled between May 21st and May 28th. Specific dates for each Institute TBA


WILL WE HAVE TIME TO WORK ON OUR LOOKS?

You will have time blocked out together once per week to work on your look. Mentors help with executing color formulas


DO WE HAVE TO PAY FOR PRODUCTS OR COLOR?

The Institute will provide Color, Makeup and Products for Models
Only Aveda color may be used


WHO ADVANCES?

The top entry from each school will be announced at Virtual Earth Jam on June 15th
LIVE VIRTUAL EARTH JAM
On June 15, 2021, we will hold a live event for you to invite all of your friends, family and support group for the premiere of the final edited looks from their photoshoots
WHO PARTICIPATES?

A highlight video of the top entry of each Institute chosen in Phase 3 will be shown with the first look at the final images from the photoshoot.
All members of each school's finalist team will be recognized, and the team leader will be asked to speak live about their inspiration and the work they have done.


WHO WINS?

For the finale, one Grand Prize-Winning Team will be chosen by a panel of beauty industry professionals. Each team member of the Grand Prize-Winning Team will receive a $2,000 scholarship.